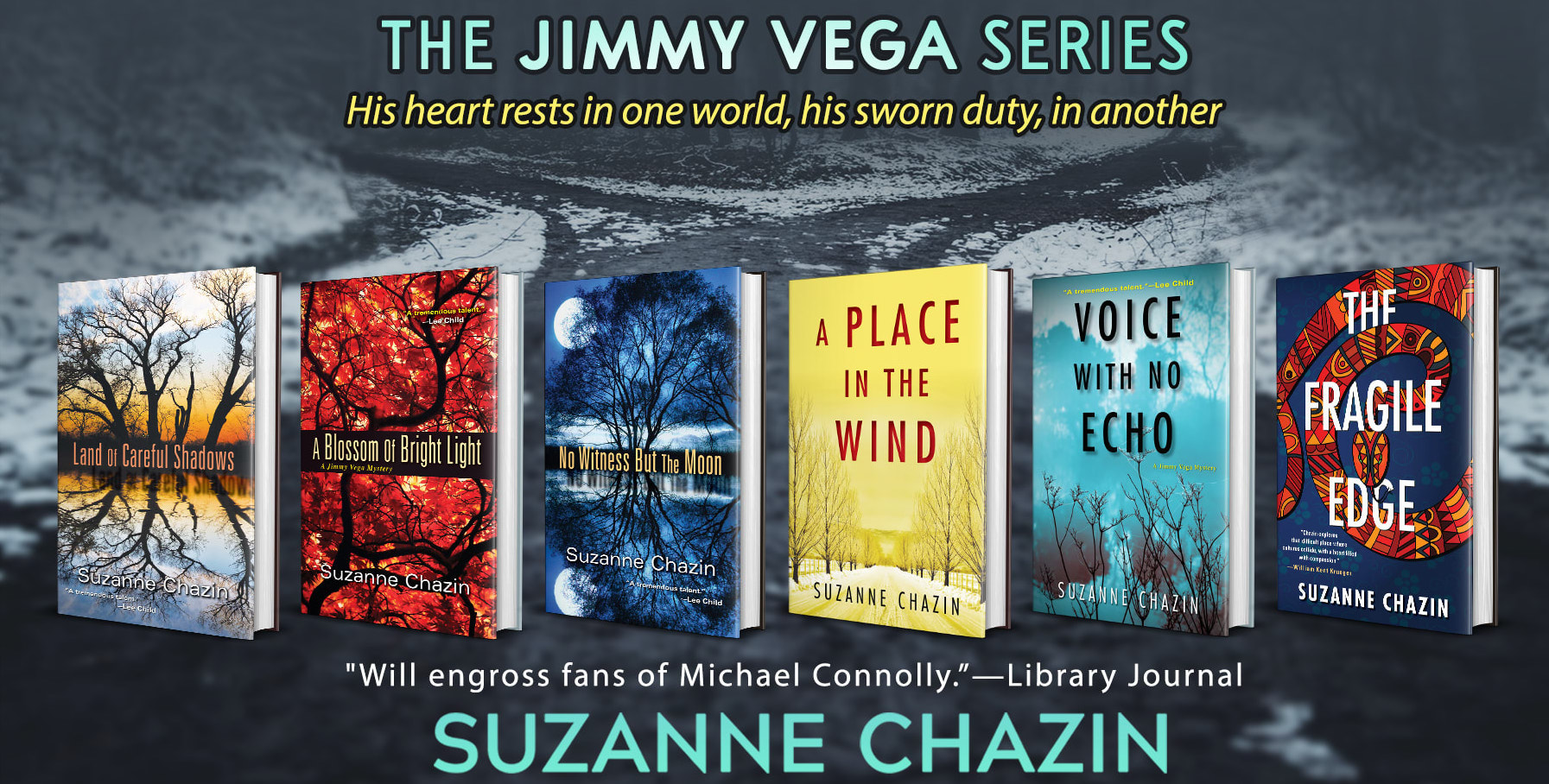 Available in print, ebook and Audiobook
Land of Careful Shadows
Chosen as one of the top five mysteries of the year by the American Library Association.
​A body is discovered in a reservoir in upstate New York. The victim is young, female and Hispanic. In her purse, police find a photo of a baby. Where is the child? Is she alive? And what about the disturbing note found at the scene? Go back to your country. You don't belong here. Homicide detective Jimmy Vega must confront a small town's darkest secrets before they savagely tear apart the world he's sworn to defend.
"Highly recommended."
Lee Child
Author
A Blossom of Bright Light
Chosen as an Amazon Mystery Pick of the Month | Library Journal starred review
​A split-second decision thrusts Detective Jimmy Vega into the epicenter of a disturbing case when a body is found near a gathering place for immigrants in bucolic Lake Holly, NY. The cold-bloodedness of the crime and the innocence of the victim haunt Vega. In a community gripped by fear of deportation, Vega needs the help of his girlfriend, activist Adele Figueroa, to gain people's trust. But Adele is acting strangely, consumed by a secret that threatens to tear them apart. When the case takes a personal turn, both Vega and Adele discover the town's tranquil facade hides a terror of monstrous proportions that threatens to eclipse anything they'd previously imagined.
"Compulsively readable with an explosive ending."
Hallie Ephron
Author
No Witness But the Moon
Chosen as one of the 10 best books of the year by the Newark Star-Ledger
Publisher's Weekly starred review
​Detective Jimmy Vega races to the scene of a reported home invasion. He spots the suspect and chases him into the woods. When the man refuses to surrender–and reaches into his pocket–Vega makes a life-and-death decision. What begins as a tragic mistake soon takes a sinister turn when ​Vega uncovers disturbing links between the dead man and his own mother's brutal, unsolved murder. Vega's need for answers propels him back to his old Bronx neighborhood where he must risk everything to find justice, redemption–and the most elusive gift of all–the ability to forgive himself.
"Chazin delivers a complex, suspenseful story with the grace of a ballerina and the impact of a boxer's fist."
William Kent Krueger
Author
A Place in the Wind
​On a frigid, January night, a blond, blue-eyed high school girl walks out of an English class she tutors for immigrants–and vanishes. Suspicion quickly falls on the men she was teaching, many of whom are undocumented. For Detective Jimmy Vega, the situation is personal. His girlfriend, Adele Figueroa, heads the center where the teen disappeared. As disturbing evidence trickles in, news of the incident spreads beyond the scenic town of Lake Holly, NY, unearthing deep-seated fears and enflaming cultural tensions. Vega does his best to run interference between Adele and the local police. But when a surrender goes awry, Vega soon discovers darker forces at play in places he never imagined.
"Disturbingly timely…engrossing…fascinating…a perfect choice for any mystery lover looking for a new series."
The Huffington Post
Voice with No Echo
​A long-buried family secret forces police detective Jimmy Vega to confront his deepest fears after the district attorney's beautiful young bride is found hanging in her basement and the sole witness—her undocumented maid—goes missing.
Immigration and Customs Enforcement sends in an investigator to help. It's Vega's estranged half-sister Michelle, now an ICE agent. Together, they must face demons, not only from Vega's past, but from somewhere uncomfortably close by. It's a race against the clock with lives on the line. And a choice Vega never thought he'd have to make: Obey the law. Or obey his conscience. There's no margin for error…
"A satisfying whodunit."
Publishers Weekly
The Fragile Edge
​A sniper attack propels Detective Jimmy Vega on a twisted hunt for a predator who stalks the unforgiving landscape of immigrant America. Probing beyond the hardships of the journey north, Chazin's taut and timely novel explores the perils that await the hopeful once they reach their destination—and the price they must pay to survive…
"Don't miss this series."
ROBERT DUGONI
New York Times bestselling author
About Suzanne Chazin
Suzanne Chazin is the award-winning author of two suspense series. The daughter of immigrants herself (Russian father, English mother), Suzanne's earliest memories centered around her own parents' struggles to adapt to life in the United States. She was inspired to write the Jimmy Vega series after volunteering for several years at an immigrant outreach center near her home. The more she learned about the lives of the undocumented, the more she came to identify her own family's quiet courage and determination in their stories.