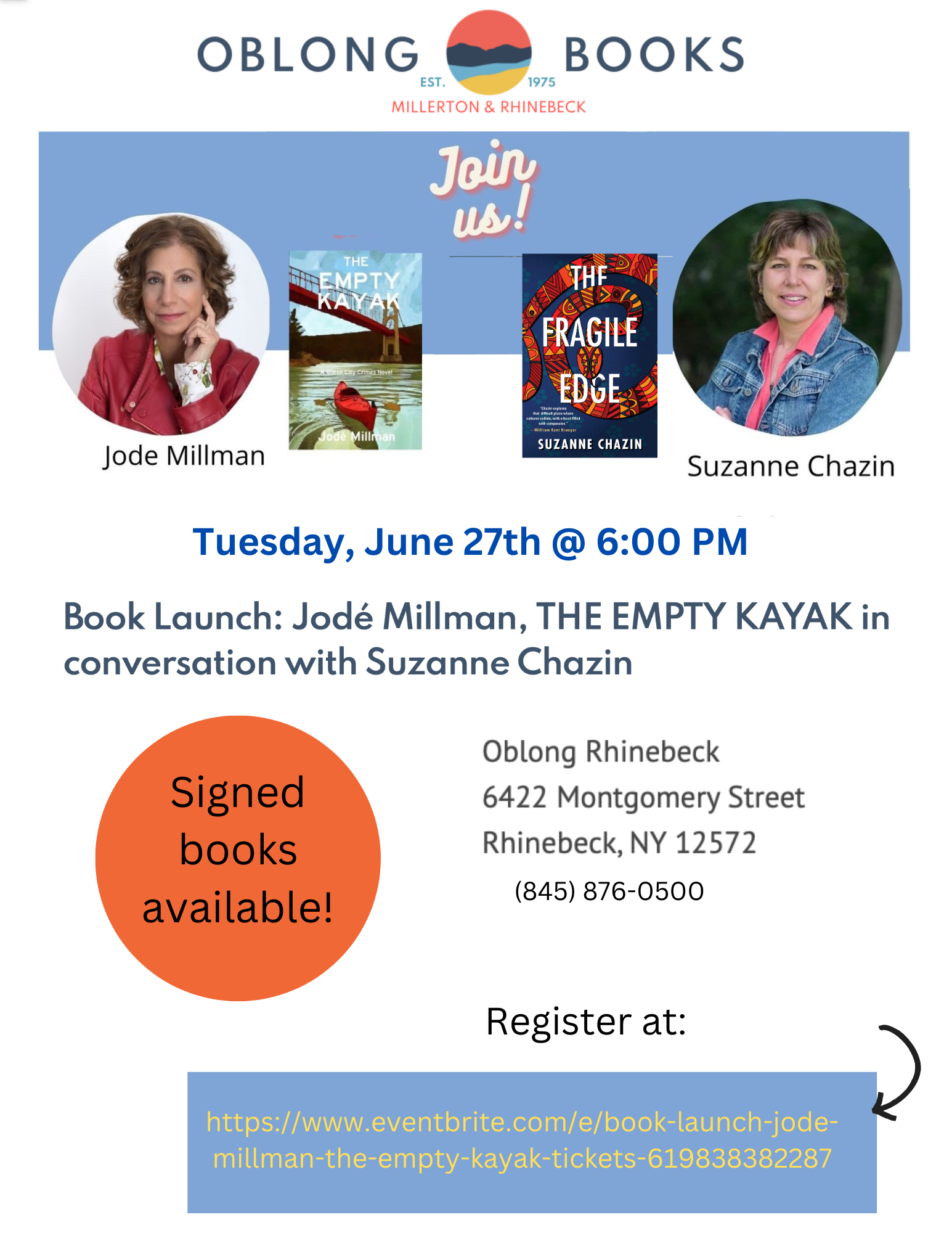 Tuesday June 27th, 2023, 6 p.M. Oblong Books, 6422 Montgomery Street, Rhinebeck, NY
Discussion with mystery author Jodé Millman
Suzanne and Jodé are pairing up again to discuss Jodé's newest release, THE EMPTY KAYAK. Don't miss this lively discussion about mysteries and the real-life stories that inform them.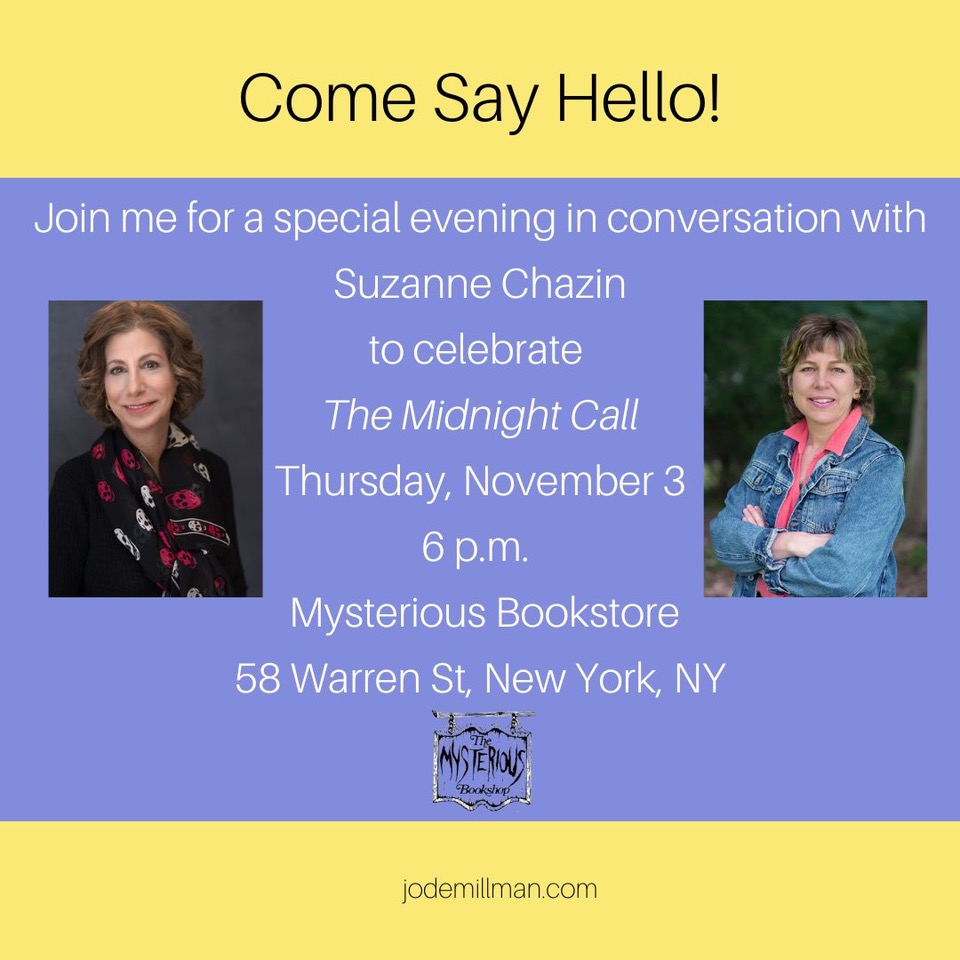 Thursday Nov. 3rd, 2022, 6 p.M. Mysterious Bookshop, 58 Warren Street, Manhattan
In Conversation with mystery author Jodé Millman
Suzanne will interview Jodé Millman about her latest book in a lively discussion about mysteries and the real-life stories that inform them.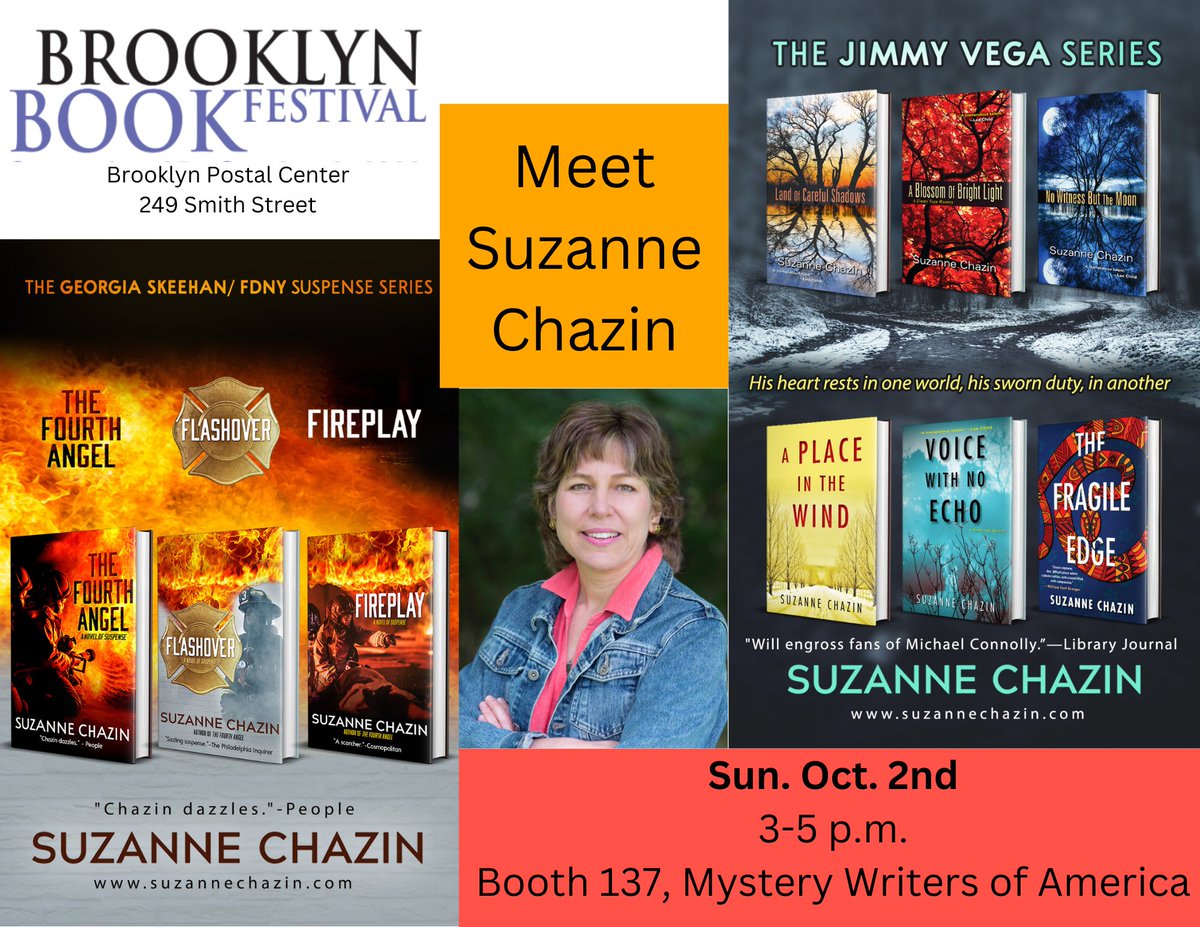 Sunday, Oct. 2nd, 2022 from 3-5 p.m. EST
Brooklyn Book Festival,
Table 137,
Mystery Writers of America
Visit the largest book festival in New York and hear Suzanne Chazin speak about the inspirations behind both of her New York series. Signed books for sale at a book festival discount!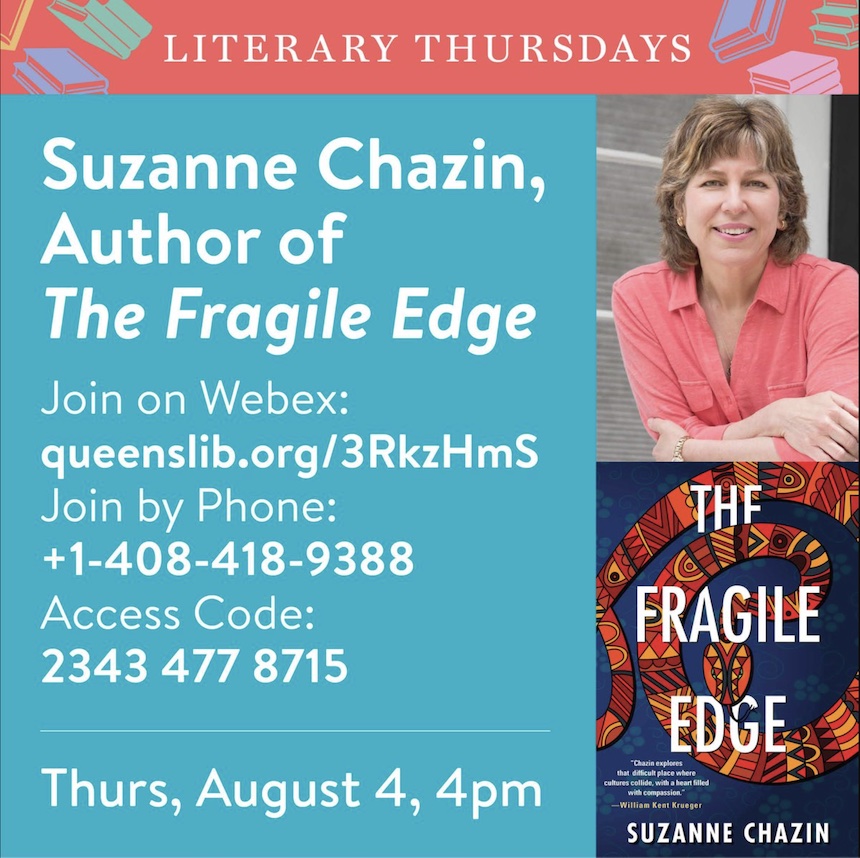 Thursday Aug. 4th, 2022 4-5 PM EST
Virtual Chat with Queens NY Public Library
Free virtual event! Author Suzanne Chazin will discuss the real-life stories and crimes behind her latest mystery, The Fragile Edge on Thurs., Aug. 4th from 4-5 pm (EST). Chazin will discuss how current events informed and impacted her latest novel in the critically-acclaimed Jimmy Vega series about an upstate NY Hispanic detective solving homicides in the Latino community while wrestling with his own complicated life and story. A compelling and topical page-turner for book groups! Listen in and chat with the author. It's free and easy.
Sunday Sept. 19, 2021 2-3 p.m.
Meet Suzanne Chazin at the launch of her new mystery, The Fragile Edge
Suzanne will be reading and signing books at Scattered Books Bookstore, 29 King Street, Chappaqua, NY on Sunday, September 19th from 2-3 p.m. Come talk about mysteries, the publishing business or how to launch your own novel.
June 13, 2020, 10am – 5pm
Sleepy Hollow Lit Fest
I will be reading and signing books at the festival, a celebration of the 200th Anniversary of The Legend of Sleepy Hollow. Come visit your favorite authors in mystery, horror, children's/YA lit, nonfiction/historical, and literature/poetry from around the historic Hudson Valley region.
Wednesday Oct. 16, 7-9 p.m.
Mystery Writers of America Panel
I will be on a Mystery Writers of America panel: Modern Forensics and Crime Fiction
Come one, come all!
About Suzanne Chazin
Suzanne Chazin is the award-winning author of two suspense series. The daughter of immigrants herself (Russian father, English mother), Suzanne's earliest memories centered around her own parents' struggles to adapt to life in the United States. She was inspired to write the Jimmy Vega series after volunteering for several years at an immigrant outreach center near her home. The more she learned about the lives of the undocumented, the more she came to identify her own family's quiet courage and determination in their stories.